Become A Fighter
Are You Interested In Becoming A Member Of Team Miles?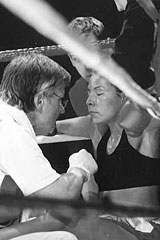 Ajarn Mike Miles has one of the most respected and successful fight gyms in North America. His athletes are active not only in national events, but also on the international stage. Team Miles has consistently produced world class MuayThai athletes. Honesty, dedication, hard work and perseverance, are just a few of the attributes Team Miles is looking for. Do you have what it takes?
Becoming a member of Team Miles is prestigious, and involves careful screening and testing of each potential fighter before earning the right to represent Team Miles. Members of the team represent the camp, Khaay SitKraitus (Ajarn Panya Kraitus) and its lineage.
Requirements
Applicants with or without fight experience need to provide
Biography including your name, age, weight, and height
Complete fight record, if available, under all combative sports including MuayThai, Kickboxing, Boxing, MMA etc
Names of former coaches and gyms
Medical Requirements
In order to compete as an amateur or professional fighter in Canada you will need to provide the following medical test results
Blood tests including HIV, Hepatitis B, Hepatitis C
EKG
Application Submissions
Are You Interested In Competing On A Mike Miles Or CAKMA Promoted Event In Canada?
We are constantly looking for both amateur and professional athletes to compete on our events.
Requirements
Applicants need to provide
Biography including your name, age, weight, and height
Complete fight record, under all combative sports including MuayThai, Kickboxing, Boxing, MMA etc
Titles and Awards
Names of coaches and gyms
International athletes require valid passports and visas for entry into Canada
A current and good quality photo of the athlete in a fighting stance and facing toward the camera
Professional competitors need to provide details on their last 6 bouts. Where and when the bout took place, your opponent's name, the coutcome of the fight, and the rules under which the bout took place
Medical Requirements
In order to compete as an amateur or professional fighter in Canada you will need to provide the following medical test results (existing tests are acceptable if they are less than one year old by fight date)
Blood tests including HIV, Hepatitis B, Hepatitis C
EKG
Female athletes need to provide a negative pregnancy test result less than one week prior to fight date
Application Submissions