Frequently Asked Questions
Who Is Ajarn Mike Miles The Teacher?
Canada's legendary MuayThai and Kickboxing pioneer Ajarn Mike Miles has been teaching his craft since the mid 1970s, after starting his training in the traditional Martial Arts in 1967. To date he is the trainer of more than thirty World Champions, and has helped thousands of clients with backgrounds as varied as housewives to movie celebrities develop skills from the Martial Arts to learning more about themselves.
Who Is Ajarn Mike Miles The Martial Artist?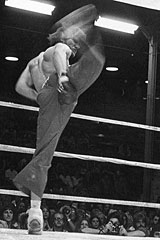 Ajarn Mike Miles has been honored by the most prestigious MuayThai, Kickboxing and Martial Arts Halls Of Fame in the world, and is recognized as running one of Canada's top MuayThai & Kickboxing camps. Mike is similarly recognized world wide for his development of MuayThai and Kickboxing in Canada and the USA. Although many of our members do not participate in the competitive side of the sport, Ajarn Mike Miles is renowned the world over for his coaching abilities and practices. Some of the top authorities in the sport have called Ajarn Mike Miles a legend in Kickboxing and MuayThai. Ajarn Mike Miles is a 4 time Professional World Champion, and one of only a handful of North Americans to hold a 7th Degree Black Belt in Kickboxing (WKA). Mike also holds a Senior Instructors Certificate in MuayThai from celebrated MuayThai Master Acharn Panya Kraitus and the Government of Thailand. Ajarn Mike Miles is directly involved in your progress and studies, along with other certified male and female instructors. The benefits of the sport can be felt immediately, whether you train in a group or prefer the attention of a private lesson. By yourself or with friends, our friendly training environment makes you feel like part of the family.
Who Is Ajarn Mike Miles The Person?
Ajarn Mike Miles is a very private person who tries to keep his personal life just that, personal. Outside of his obvious living for MuayThai and the Martial Ring Arts, he has few personal interests which include first and foremost his children and family, Harley Davidson motorcycles, collecting paraphenalia from The Beatles and the Martial Arts, and also tattooing and artwork. Mike has contributed to many Martial Arts magazines around the world, and he adds constantly to a nearly complete set of books and videos on the Martial Ring Arts. Mike intends soon to publish a number of comprehensive works on MuayThai and Kickboxing, while he also spends time creating original artwork of famous people and MuayThai.
What Credentials Do Your Instructors Have?
Mike Miles MuayThai & Kickboxing Ltd schools are the only WMC, IFMA and WKA licensed and certified MuayThai and Kickboxing facilities in Calgary. Similarly, we are also Calgary's only certified Cardio-Kickboxing gyms featuring certified instructors by America's Cardio-Kickboxing founder Frank Thiboutot. We are the oldest and best equipped MuayThai and Kickboxing school in Calgary, with instructors who are all ring experienced Kickboxing and MuayThai champions. You learn from instructors who have produced results in the ring and fully understand the self defense aspects of the this art. All main instructors are certified AFLCA instructors.
What Sets Your Gym Apart From The Rest?
We only teach MuayThai. We are Masters at what we do, and do not wish to become mediocre Jacks Of All Trades. Our focus on mastery shows, as we are now in our fourth decade of instructing. Our instructors and competitive athletes have fought for every recognized sanctioning body in the world, representing Canada on every continent on the planet. Our facilities are safe, professional, and unique in Calgary. Ajarn's personal history, his lineage, qualifications and credentials are all posted in the main gym. In Thailand, the birthplace of MuayThai, Kru Mike's lineage is impeccable and of the highest and most respected standard.
How Is MuayThai Different From Regular Kickboxing?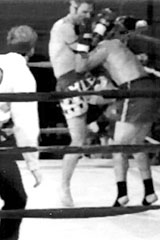 MuayThai is the King of all Martial Arts, and was born out of conflict and war. It was based on survival. By the sixteenth century MuayThai became recognized as part of military training. It wasn't until 1930 that the MuayThai we see today was born, when the inclusion of leather gloves, rounds per bout, and weight classes became standard. Over 300,000 people practice MuayThai in Thailand, with fights being held on a daily basis. Kickboxing is a very generic term and can mean anything from MuayThai, to full contact rules competition, all the way to cardio exercise and fad variants like Tae Bo. MuayThai differs from other Kickboxing styles because it utilizes all of the body's natural weapons; including the fists, elbows, forearms, shins, knees and feet. Through safe training and proper guidelines MuayThai has become an art that anyone can practice and benefit from.
How Much Contact Is There In Your Classes?
The beginner class offers no sparring. Techniques are taught through very mild contact, and no one in class is out to injure you. Classes are conducted under the supervision of several professional instructors. You will never be forced into something you do not want to be part of your workout.
Do You Have Any Female Members?
Over 70% of our members are women. MuayThai is an excellent way of learning self defense, getting into shape, and a great way to meet new people in a very beginner friendly environment.
Can I Participate Without Experience And Low Fitness Level?
You do not need to be fit, because it's our job to get you fit! We have three levels of intensity: Beginner, Intermediate, and Advanced. You start with everyone else at the Beginner level and build up from there. Many of our current members had no previous martial arts experience. Classes are designed to be challenging for both the beginner and the experienced martial artist.
Where Do I Start If I Have Martial Arts Experience?
We would like to watch you and evaluate your skills in the beginner class before letting you attempt intermediate and advanced classes. As you know, Martial Arts all have their own distinctive style and MuayThai is no different.
What Happens In Your Classes?
A typical beginner class consists of a short 20 minute warm-up, followed by a 10 minute stretch period, and only then the technique section. Every day you will learn something new. The total class runs for approximately 90 minutes. The best way to see what a typical class looks like is to come down and watch a session. Better yet, why not sign up for our free introductory class!
Do You Have Free Classes?
The best way to tell if you are going to like it, is to try it. Mike Miles MuayThai & Kickboxing does offer an introductory class at no charge. Bring a pair of shorts and a t-shirt and jump in. Before taking the class, you must sign a legal waiver in case of injury. Persons under the age of 18 will need to have a parent or guardian sign the waiver. Your parents can sign at the gym, or you can take a printed form home with you.
Can I Do MuayThai Without Sparring Or Getting Hurt?
Yes, you can! No one has to step in the ring or endure a hard sparring session. 99% of our clientele is not interested in competition. Most want to exercise solely for fun and personal growth. You training takes place in a fully equipped gym with an emphasis on hitting pads and bags, not partners. You learn about defense and attack from day one, including the benefits of increased fitness, flexibility and agility, and improved confidence.
Why Should I Choose Your Gym?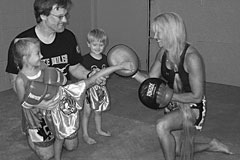 In North America, MuayThai is growing in strength and recognition by its practitioners and competitors. Many of the major martial arts have tried to imitate the skills and styles of MuayThai. Unfortunately, there are only a few real MuayThai training facilities. Mike Miles MuayThai & Kickboxing Ltd is Calgary's most qualified for teaching the art of MuayThai and Kickboxing. Our facility includes a large gym with full professional weight room, heavy bags and striking equipment, plus a cardio equipment area which can be used any time during business hours. We let you try a free class first, confident that our professional and friendly atmosphere will keep you coming back!
What Do I Need To Start?
Come to any of our convenient locations and observe or join in a free class. There are adult co-ed classes, teen and children's only classes. Members range in age from 4 years to 50 plus years old. All you need is a pair of shorts or loose fitting tracksuit bottoms and comfortable t-shirt or sweatshirt.
Why Should I Join?
Join for self defense, fitness, or just plain fun. Mike Miles MuayThai & Kickboxing Ltd is a great place to meet people interested in working out, Martial Arts, MuayThai, or Kickboxing.
Do You Require Special Uniforms?
We ask you to wear a club shirt, plus anything on your legs that you are happy with, be it shorts or sweat pants. For those interested in the most comfortable and official gear, we sell a full line of Thai style shorts, gloves and other fight equipment. These optimally dissipate heat and sweat, but are not required workout wear in our regular classes.
How Much Are Classes And Private Tuition?
The cost of group classes varies by your status; i.e. different base rates for adults, students, teenagers and children. We offer different programs and financial arrangements for you to train at our facilities, and a consultation with our staff is often the best way to see which program and costs best suit your circumstances. Ajarn Mike Miles has travelled the world learning from some of the most respected and celebrated teachers in the world, earning certification and notoriety at many stops along the way. Ajarn Mike Miles believes in giving back to the community, and prospective clients will be shocked and surprised to see how little we charge. Group tuition is co-ed and the least costly method of learning. Private one-on-one tuition is more expensive, but provides a more rapid way of learning and improving. Small groups of 2-6 people can also book more cost effective private lessons, which are available any time day or night and weekends.
Do You Offer Opportunities For Competitive Athletes?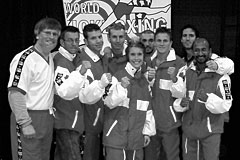 We are Canada's busiest competitive MuayThai and Kickboxing facilities. Our amateur and professional athletes have represented Canada on every continent in sanctioned events ranging from International Boxing, Full Contact Rules, International Kickboxing Rules, Full and Modified MuayThai Rules, to Traditional Martial Arts competition. Mike Miles MuayThai & Kickboxing Ltd is known around the world as one of Canada's elite competitive gyms.
How Do I Become A Competitive Athlete?
One has to earn the right to be considered a fighter. In Thailand, athletes are put through tests by their instructors before being allowed to represent them inside the ring. A prospective fighter goes through many and varied tests, including perseverance and integrity before being awarded the right to become a full fledged competitive athlete representing Ajarn Mike Miles and his lineage. Ajarn Mike Miles himself went through many of these tests before being accepted by the top instructors in the world. An instructor does not want to invest a great deal of time into an athlete who might just quit after receiving extensive training. Many people want to be competitive athletes, but those wishing to be accepted will have to prove their worth through several tests.
What Is Expected From Your Competitive Athletes?
Ajarn Mike Miles demands the athlete be the best he or she can be. That is why the gym and Ajarn Mike Miles has such a flattering reputation. Beyond the athlete who merely wishes to compete, Ajarn selects athletes with a strong drive to work hard and win. Ajarn Mike Miles has a proven track record of producing highly successful competitors. The high demands he places on his fighters are closely connected to the national and international achievements of these athletes.
Do You Accept International Students?
Elite athletes from around the world have requested and approached Ajarn Mike Miles to come and train at our facilities. We welcome international students all the time.
More Questions?
Just dial 403.244.8424 and we will try to answer your questions!