Private Lessons
We Have Been Imitated, But Never Duplicated!
Mike Miles MuayThai & Kickboxing Ltd has been serving Canada for over 29 years. People from around the globe with all kinds of backgrounds seek out Ajarn Mike Miles to teach them MuayThai and Kickboxing skills. Clients as varied as business executives, celebrities, athletes, emergency and military personnel, students, and many others, have all enjoyed learning in an enviornment that is flexible enough to suit your needs and time constraints.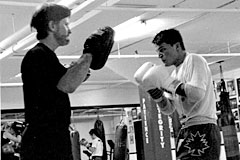 Ajarn Mike Miles has taught thousands of students, producing multiple World Champions in MuayThai and Kickboxing, plus countless other Intercontinental, Continental and Regional Champions. Highly sought out as a trainer, once you experience private lessons with Ajarn Mike Miles, you will understand why!
While many clients prefer to remain anonymous, among Ajarn Mike Miles' students are boxer Al Murray, and celebrity Pascale Hutton just prior to filming a fight scene for the movie Hollywood Wives The New Generation in 2003. Others include NHL player Garret Stroshein, Kaysi Fagan, and Jade Irwin preparing for a fight in 2004.
Things To Consider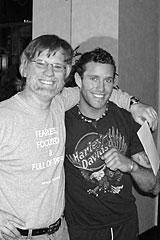 The cost of private lessons can vary depending on the time of day they are booked, where the lessons will take place, the length of the lesson, and how many people will particpate in the private or semi-private session. Booking multiple lessons often qualifies for an overall discount.
Private lessons can be scheduled at our facility, or a location of your choice
Private lessons can be scheduled at flexible hours, including mornings, afternoons, evenings, on weekdays and even weekends
Private lessons can be booked one-on-one, semi-private, or in small groups
Private lessons can be booked as needed: one session at a time, or multiple sessions on a regular schedule
Contact
For private lesson information in your area please contact